What do you think of Totem?
Submitting, please wait...
✅
Published reviews
Mairéad Bilton-Gough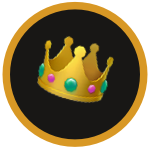 2 months ago
In stark difference to the uplifting indie-pop Georgia Fair are known for, 'Totem' brings us a new, darker side of Wilson's songwriting, showcasing a more vulnerable, more moving Wilson than we've previously seen. Gentle strums of acoustic guitar layered with understated keys bring a level of softness and comfort to the track, and artfully allows Wilson's poignant vocals and evocative lyrics to become front and centre.

1