What do you think of INDUSTRY BABY (feat. Jack Harlow)?
Submitting, please wait...
✅
Published reviews
Isaac Lewis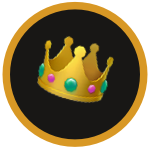 2 months ago
Lil Nas X once again delivers one of the biggest releases of the year with 'Industry Baby', an infectious and catchy summer jam with rapper Jack Harlow. The instrumentation on this one is driven by a leading horns section stepping up in intervals presenting a grand and royal theme, very similar to that of the major labels and music industry Lil Nas is referencing in the lyrics.
Every lyric is carefully crafted and nothing is left to the imagination with the straight to the point and obvious remarks, including that of the chorus; 'I told you long ago on the road, I got what they waiting for, I don't run from nothing, dog'; a commentary on doubters and the early confidence Lil Nas possessed.
Overall, this track is another reason to not right Lil Nas X off as one hit wonder off the back of his 2018 mega hit 'Old Town Road'. From the slick lyricism to the brilliantly balanced mix on the production 'Industry Baby' will stand up as contender for the best in 2021.

0