What do you think of Hunger and Fate?
Submitting, please wait...
✅
Mairéad Bilton-Gough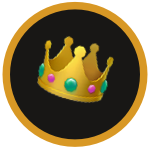 3 months ago
'Hunger & Fate' transports your mind to a late-night jazz club. The kind you stumble upon when you're out exploring the world, unsure what to expect from the dimly-lit venue you've never heard of and unaware of the magic that lies within until you enter the doors and are entranced in the moment. It's the best kind of travel experience and best kind of musical moment all wrapped up in one heart-filling night out. Or in Coleman-Brown's case, one soulful, authentic, jazz track.

0