What do you think of All I Needed?
Submitting, please wait...
✅
Mairéad Bilton-Gough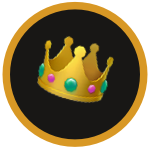 3 months ago
A more up-tempo number, 'All I Needed' exudes as much raw passion as the track that preceded it, and not without reason: impressively, the powerful vocal solo in 'All I Needed' was completely improvised in the moment – lyrics and melody included. 'All I Needed' is the kind of jazz song even non-jazz lovers can get down to. It features the perfect combination of fast-hitting notes that make you want to wobble your side to side and just roll with it.

0