Harry Styles has added another notable achievement to his career, becoming the first man to be the solo cover star of Vogue.
They really couldn't have picked a better man for the job. As per
CNN
, the British singer is the first solo male to front the cover in the magazine's 128-year history.
In the December issue of Vogue, Styles discussed a lot of things. He talked about his plans to travel to Tokyo and his musical ambitions. Most importantly, he discussed his fashion, which has increasingly blurred the gender lines.
"As a kid I definitely liked fancy dress," Styles told Vogue. "I was really young, and I wore tights for [a school play]. I remember it was crazy to me that I was wearing a pair of tights. And that was maybe where it all kicked off!"
The
cover story
features Styles in a full-length gown, designed by Gucci's Alessando Michele, paired with tailored tuxedo jacket. He also poses topless in a Chopova Lowena kilt-inspired skirt, looking very much like a stylish (and, we presume, cleaner) version of Braveheart.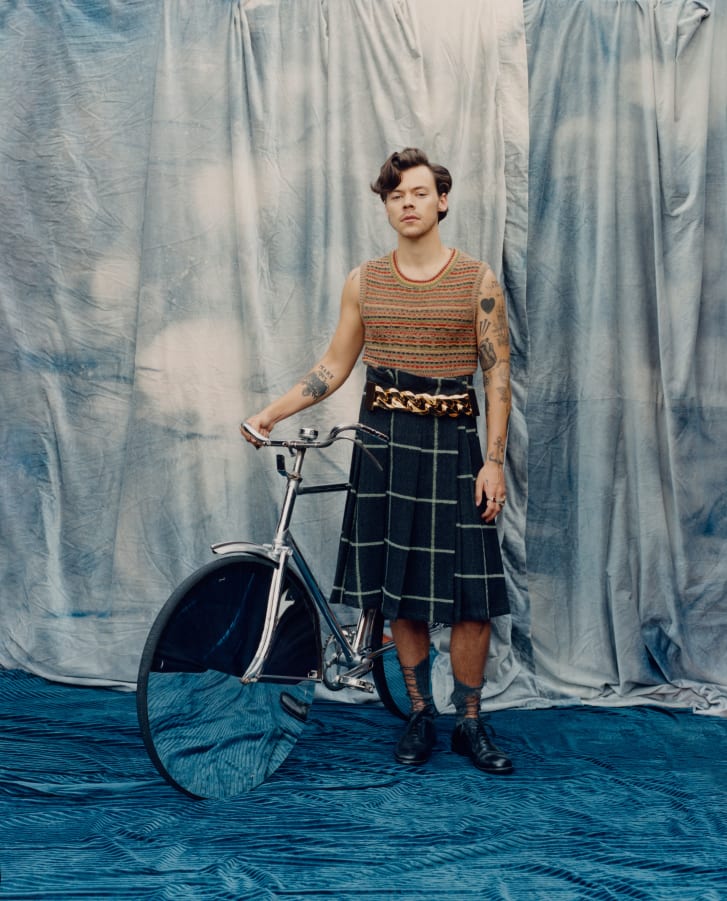 He's not the only groundbreaking talent featured. The photos were taken by the photographer Tyler Mitchell, whose career was propelled to great heights in 2018 when he became the first Black photographer to shoot a Vogue cover.
Beyoncé was his subject
on that occasion.
It's also not his first newsworthy cover of the year.
Styles
made headlines earlier in the year after
he posed on the cover of Beauty Papers
, a biannual magazine based in London, in fishnets and lipstick. Vogue's quite the step-up though.
Styles
is far from the first man to challenge gender norms in fashion but he's one of the clearest mainstream artists to do so. "What women wear. What men wear. For me it's not a question of that," Styles
told
The Guardian last year.
"If I see a nice shirt and get told, 'But it's for ladies.' I think: 'Okaaaay?' Doesn't make me want to wear it less though… I think the moment you feel more comfortable with yourself, it all becomes a lot easier."
Check out an acoustic version of 'Cherry' by Harry Styles: