What do you think of Wrestling?
Submitting, please wait...
✅
Mairéad Bilton-Gough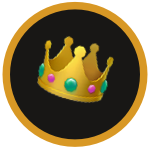 4 months ago
It's hard to believe KUČKA's Wrestling is a debut album. We waited two years for its release since it was first announced, but this is the kind of album worth waiting for. The record is a diverse collection of experimental electronic tracks, textured with glitchy synths, layered with KUČKA's ethereal vocals. Wrestling is definitely a start-to-finish album – that is, one that takes you on a journey, as each song shares new, deeply-personal insight into her story, and one that you don't want to turn off.

2